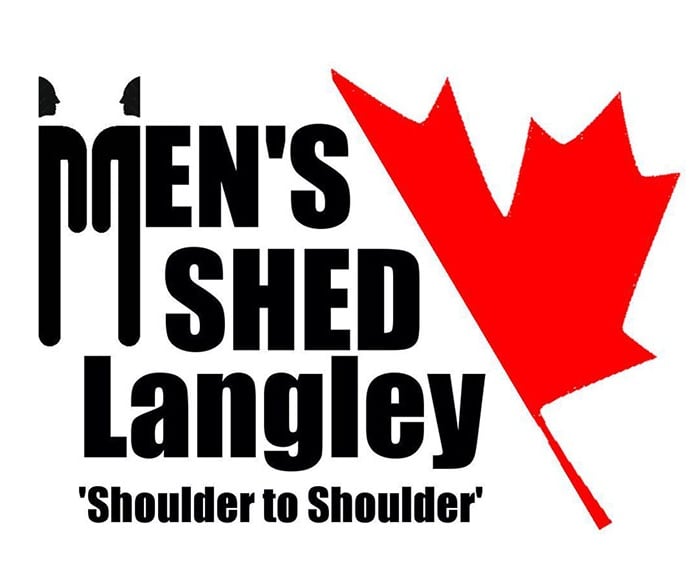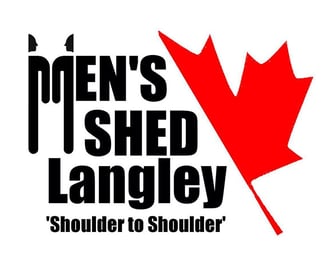 the Men's Shed of Langley, B.C., Canada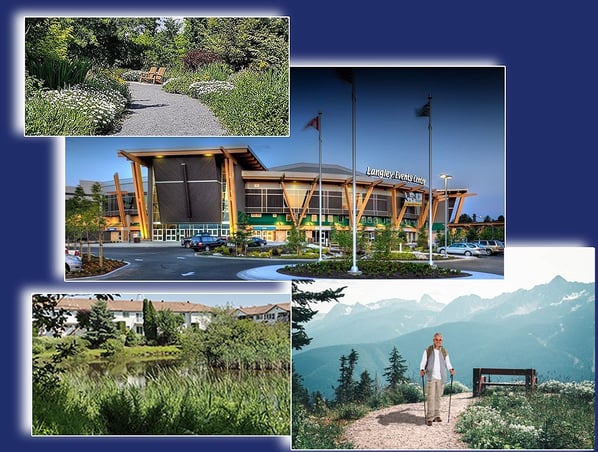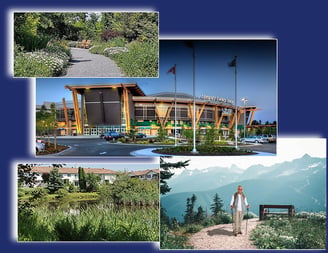 This box area will be used from now on, as an up-to-date message billboard, to announce any immediate changes or announcements
for our members.
Please check here first.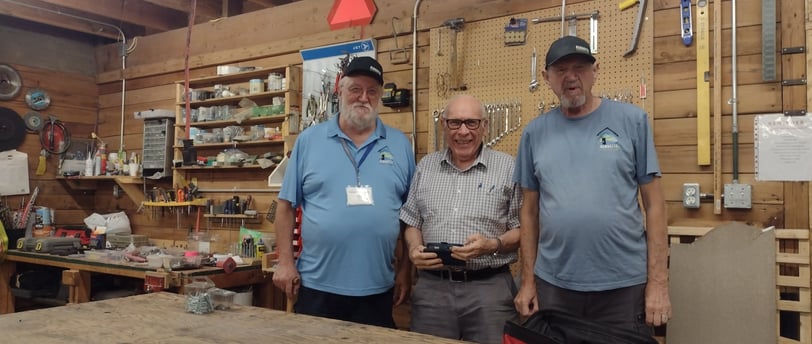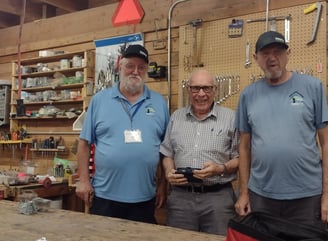 Welcome to Men's Shed Langley
Discover a place where men can come together, share their skills, and form meaningful connections. Men's Shed Langley offers a supportive environment where you can avoid isolation and contribute to the betterment of our community. Join us in advocating respect, decency, and friendship.
Two Allouette Men's Shed members, Richard & Wayne, visiting our 'shed' location.....
and GG of Men's Shed Langley (middle).
One photo may replace a thousand words but nothing can replace the fun, embarrassment and pride we experience while taking them.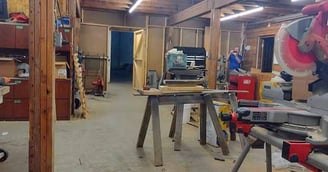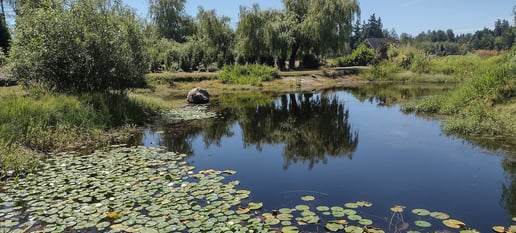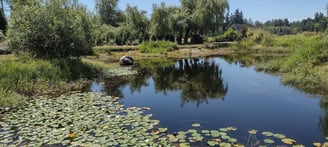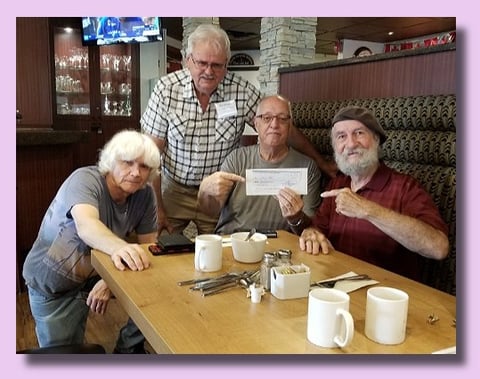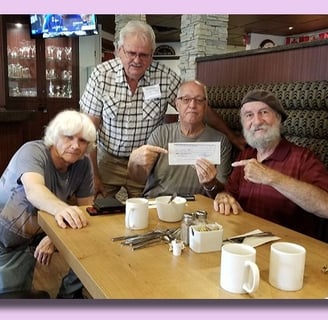 Happily receiving a $500.00 cheque from 'Langley Seniors in Action' members Paul Crump (right centre) and Ron Bergen (left centre), are President Ray Girard (right side) and Vice-president Alex Paylor (left side)..... of Men's Shed Langley.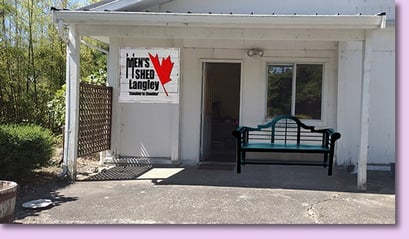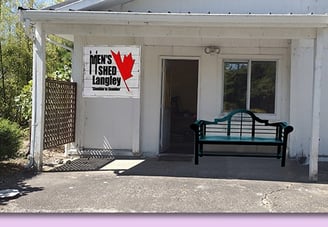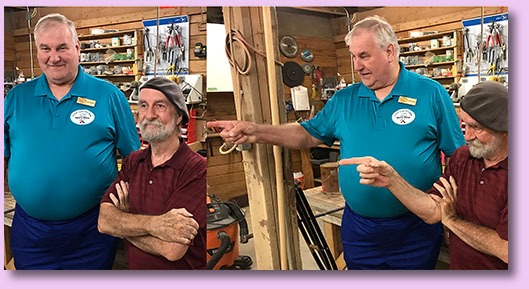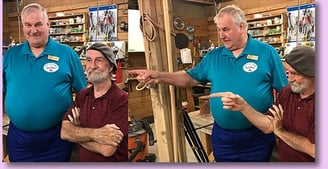 Here we see Jan from Fraser Lake Men's Shed, and Ray from Men's Shed Langley, pointing out a couple of the trouble-makers they've noticed.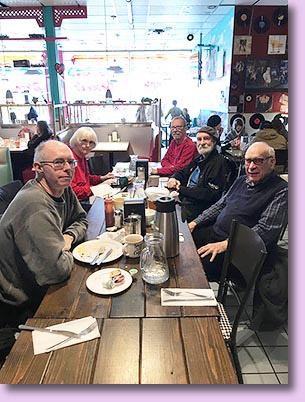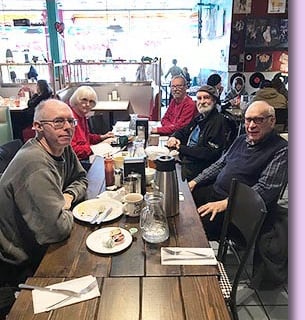 Our first actual meeting. Boy, we hadn't a clue what we were getting into. So far, we've figured it out as we go, and today we are not doing too bad.
Langley...has a Men's Shed.
( I'd mention who we are...but I forgot. )
OUR CURRENT MEMBERSHIP
(in no particular order)


Originally from Ontario, I am retired from 25 yrs. of radio broadcasting (DJ).
Interests

: Sailing, graphic arts, German Shepherds, tiny houses, physics, photography, high-end audio, furniture design, astronomy, bojutsu, karate, PhotoShop, quantum mechanics, coffee, beer tasting, humour, woodworking, writing, car concepts, travel, voiceover & many more.


"I refuse to join any club that would have me as a member."~Groucho Marks


Originally from Australia
Now retired from a career as Building Contractor and Finishing Carpenter.
Interests
: Cedar strip canoe and kayaks, Lotus Super 7 cars, Custom furniture, Kayaking, Adventure travels, Long distance road trips, Organic gardening, Arts & crafts












David is from Earth originally, but we don't really know where he's been.
Interests:

David likes changing his name, complaining about his shoulder, and making great suggestions in our Men's Shed matters.
Originally from Manchester, England, Alex spent many years in broadcasting as a 'DJ', and as a a newsman, on various stations in N.S., Ont. and N.B.
Interests:

Puns, British comedy, hot cars, Chihuahuas, writing, proper grammar, cooking and puns.....and puns.
Originally from Liverpool, he is the President of Men's Sheds for the province of B.C. Despite his vampire photo, he's a really, cool dude who hasn't bitten anyone (so far)...(that we know of).
Interests:

Sailing his Nonsuch and helping any B.C. Men's Shed in any way.
Ken seems to live life on the edge. Having spent some time in a multiverse, he comes up with some unusual ideas.
Interests:

swimming, podcasting, helping seniors avoid scams, humour, loves technology, and getting lost.
Originally from somewhere, Brad now works fulltime at peacekeeping.
Interests:

motorcycles, travel, marathons, (gosh, we don't know much about this guy).


Jack is from around the corner. That is where we always see him come from. He has retired from a life of being a professional nurse.
Interests

:

we haven't got around to asking about what he likes, as we are all questioning him on our various aches and pains.
A real Canadian, Graham has spent most of his life in the military. When our meetings get boring we just ask him to come up with a compelling story of military life.
Interests:

GG is on multiple committees, organizations and boards. He likes model trains and discussing life, in all its details.
Originally from around here, Dennis is a retired professional photographer.
Interests:

woodworking, photo-related crafts, home-maintenance, garage-doors, heavy-machinery sales.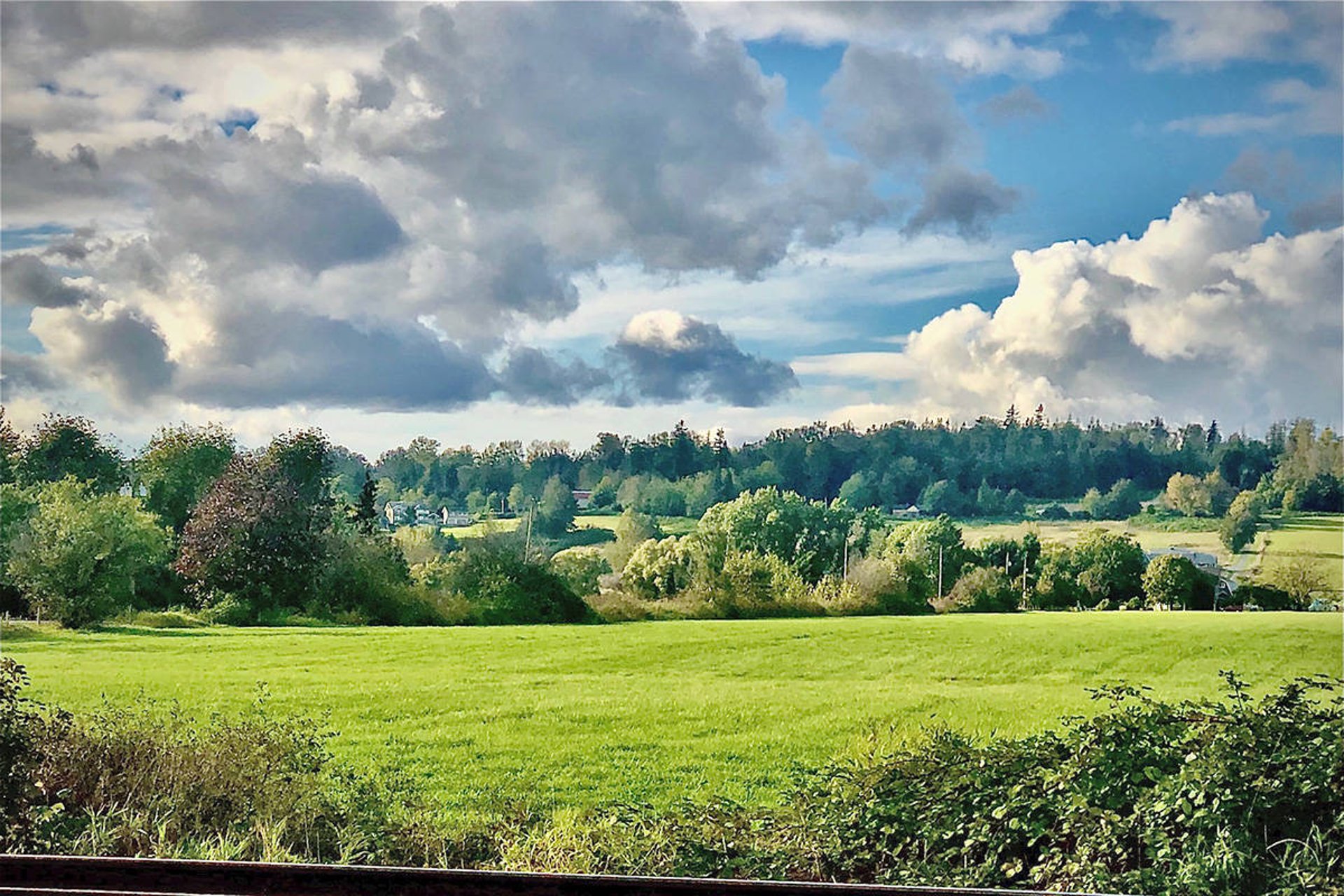 Other, ...NOT Men's Shed Photos
Just interesting shots of interest, for our interest and possibly yours.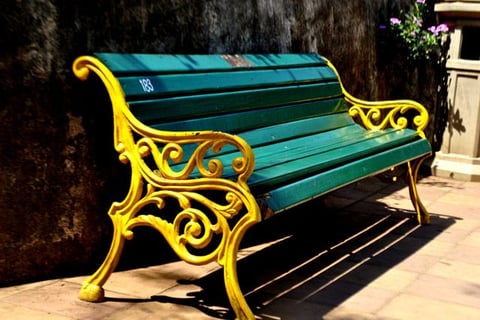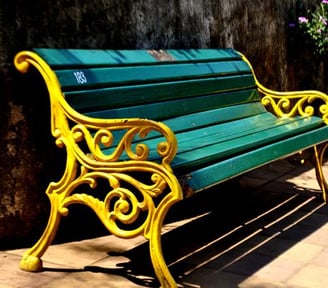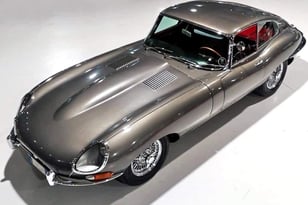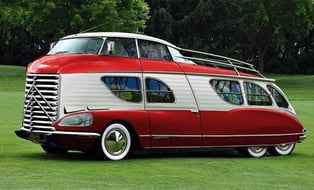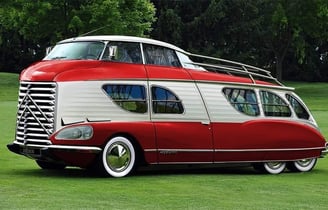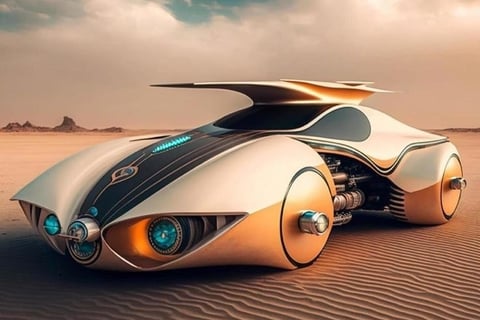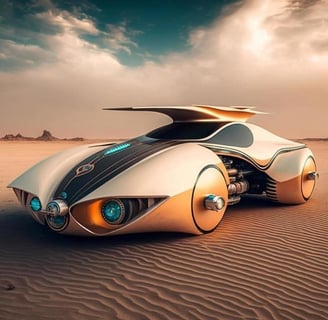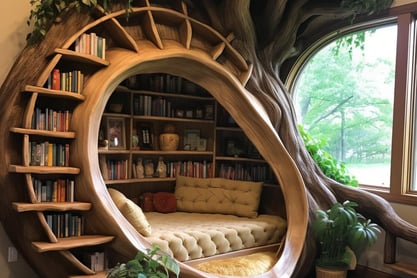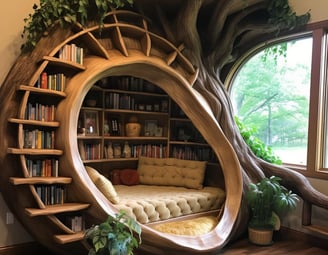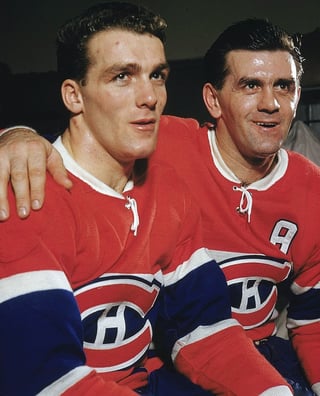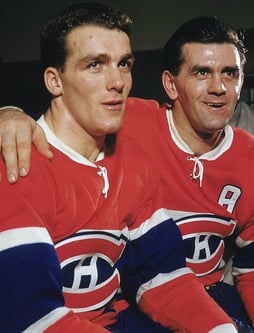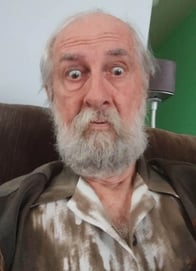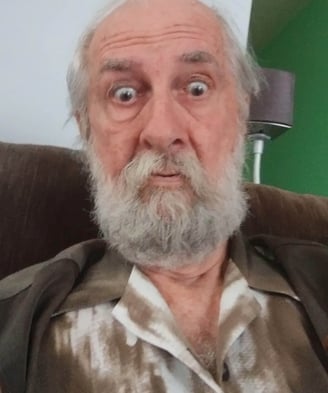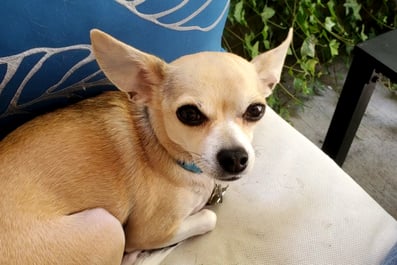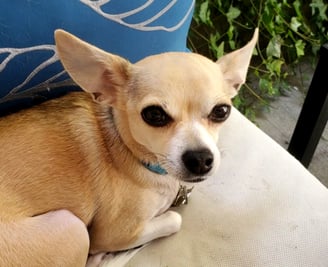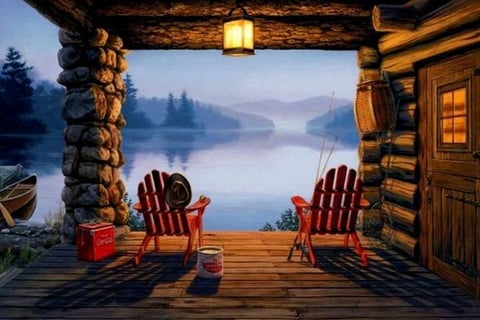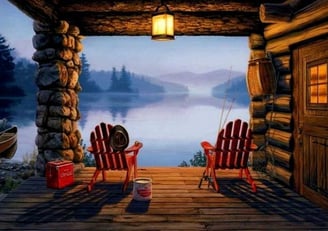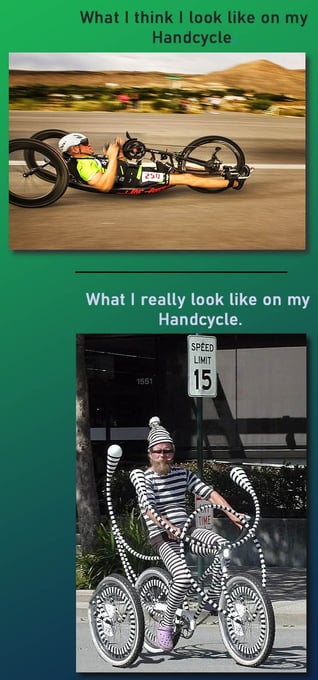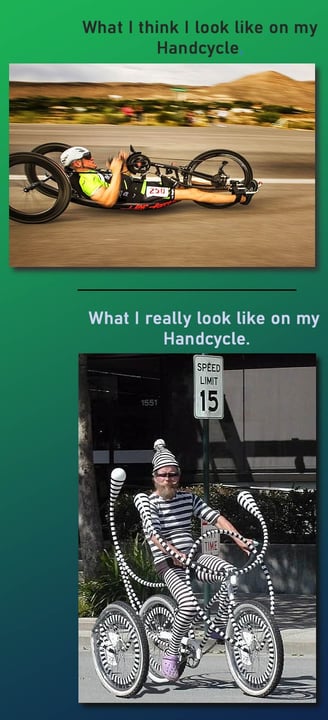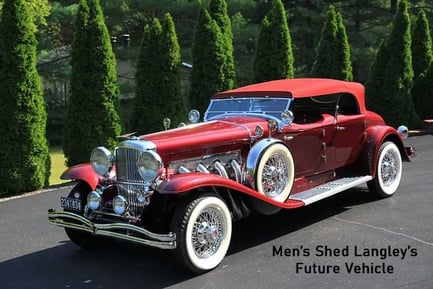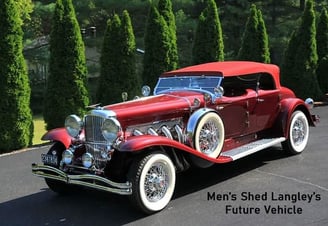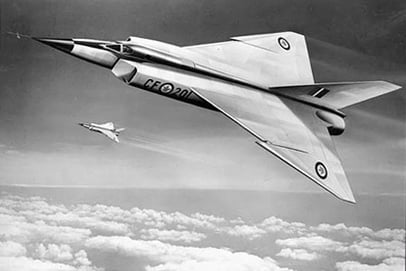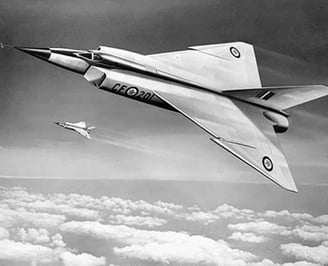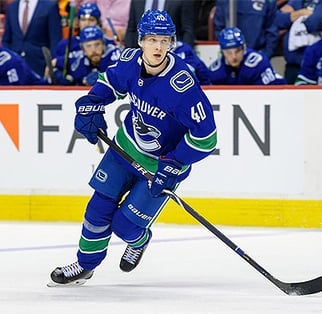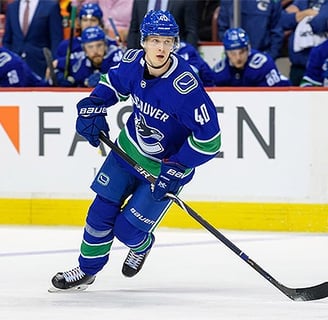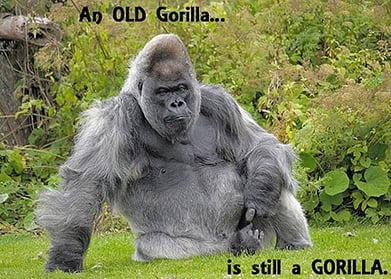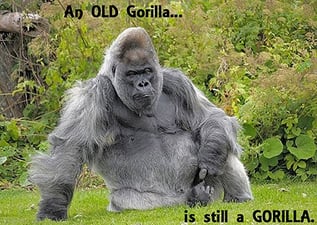 Should you believe that any of these photos violate your copyright, please contact us with evidence, and we will take action immediately.
*Report Copyright Infringement*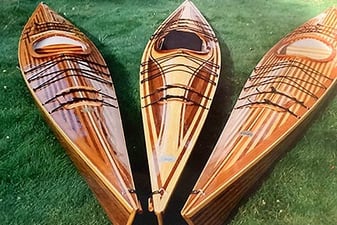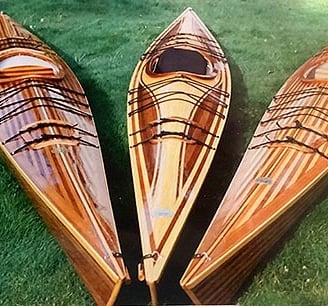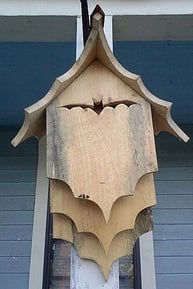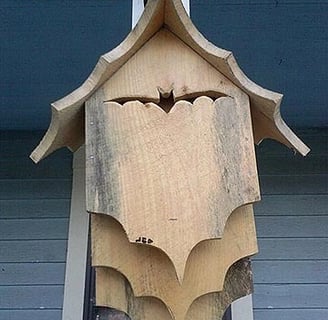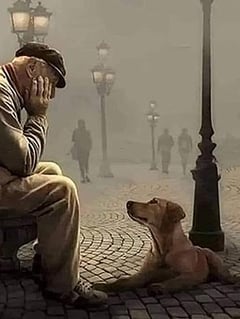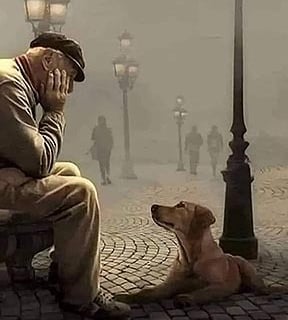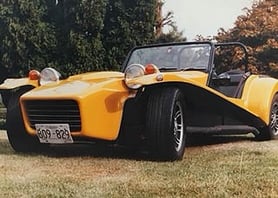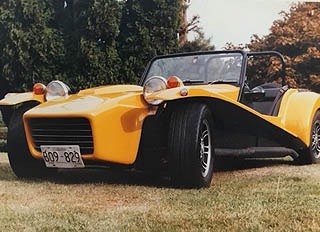 IF YOU WANT TO SEE WHAT WE ARE ABOUT
Join Our Weekly Monday Meeting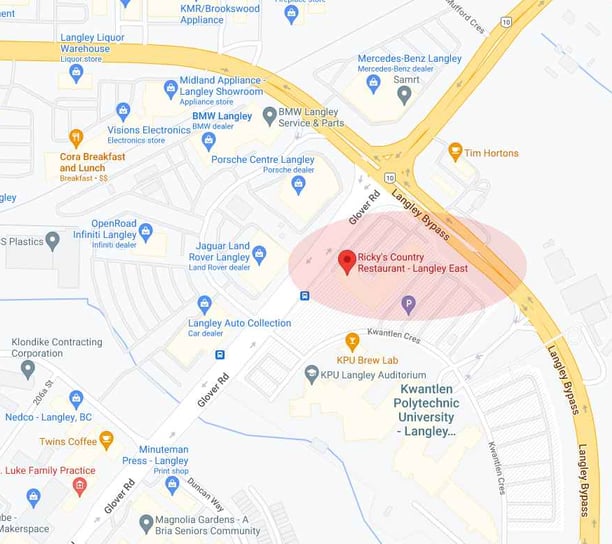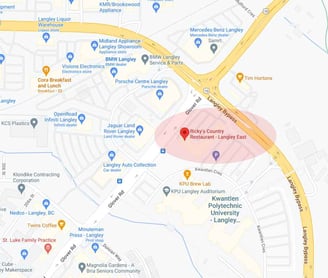 We gather at Ricky's Restaurant East, at 5978 Glover Road, just off the Langley Bypass.
We hope 10:30 AM is not too early for you. Being a restaurant, coffee and/or breakfast is available.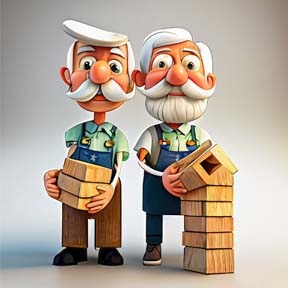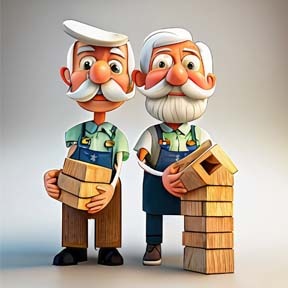 Men's Shed Langley is a part of the global Men's Shed movement, providing a space for men to connect, share skills, and contribute to their community. We promote respect, decency, and friendship, fostering an inclusive environment where men can thrive. The idea is deceptively simple, and amazingly complex within the framwork of sharing time, ideas, talent, effort, concern, ...and mental wellbeing.
Our email:
WHAT IS A 'MEN'S SHED?
The Simple, Simple
Explanation
-A Men's Shed is a group of men who get together, whenever they want, to do whatever they want, for the good of their wellness and/or for a purpose, ……………or just for fun.
The Simple Version
-A Men's Shed is men, first and foremost, …a shed location, some equipment, a purpose, with an underlying thread of defeating isolation and loneliness.
This is a World Wide organization of separate, but interacting Sheds, which help and learn from each other, while doing personal or community projects of all kinds.
The In-depth Version
-Men's Sheds originated from the shed in a backyard scenario, where a man
would go and carry out tasks, such as restoring furniture or fixing lawn mowers.
The first men's shed (by that name) was opened in Tongala, Victoria, Australia on July 26, 1998. Currently, the number of Men's Sheds worldwide is approaching 3,000, in 12 countries.
A Men's Shed provides a safe and friendly environment where men can work on meaningful projects. Men work at their own pace, in their own time, in the company of other men. It's a place where you can learn or teach new skills and find new opportunities and interests while making new friends.
A Shed offers men an alternate way to reach out to avoid 'isolation' while giving back to society. The mental wellness aspect cannot be overrated. Men don't tend to discuss their problems or anxieties, but in the context of a project, or if they encounter another with a similar problem, it begins to come out, to an understanding group.
Many men, who don't have any real problems, just revel in the relaxed atmosphere of respect, decency and friendship. Irregardless of your politics, religion or race, ...or age (as long as you are 18 or older), we will accept you in to take on a job, teach what you know, learn what you don't, ...or just drop in and hang around and gab over a coffee.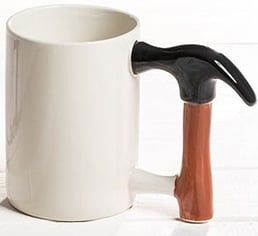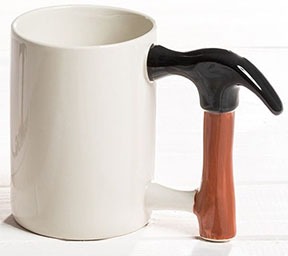 "Contrary to general belief, work comes easier for older people if they are in good health, because they have learned through years of practice how to arrive at a given place by the shortest path." ~Nokola Tesla
S.O.S.- 'Slower, Older, Smarter' ~Unknown
"I am an old man and have known a great many troubles, but most of them never happened." ~Mark Twain

"My first thought was with the shed, because that's where my adventures really began"
~Steven King
...some interesting,
...others not so much.
The movement originated in Australia around the 1980s as a way to improve the health and wellbeing of older men. Some say it was started by a woman who was frustrated by her retired husband just sitting around the house offering 'suggestions'.
The slogan for men's sheds is "Shoulder To Shoulder", shortened from "Men don't talk face to face, they talk shoulder to shoulder", adopted after the 2008 Australian Men's Shed Association (AMSA) conference. The users of men's sheds are known as "shedders".
In 2014, Professor Barry Golding coined the term "shedagogy" to describe "a distinctive, new way of acknowledging, describing and addressing the way some men prefer to learn informally in shed-like spaces mainly with other men."
There are over 900 located across Australia, with thousands of active members. Men's Sheds can also be found in the United Kingdom, Ireland, USA, Finland, Estonia, New Zealand and Greece. Many other countries have shown a growing interest. The province of B.C., in Canada, has almost 40.
We may seem like we cater to seniors or retirees, but we are open to anyone who identifies as a male, 18 or older.
"Men's sheds have been described as a male-friendly service providing a 'health by stealth' approach". Research acknowledges the positive role that sheds can have in "addressing the gendered health disparity that males face".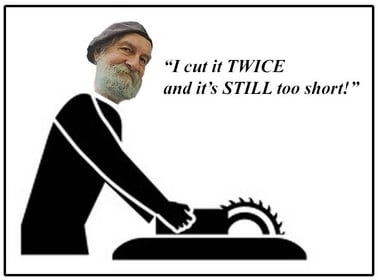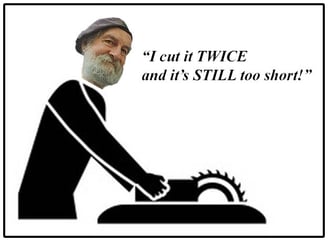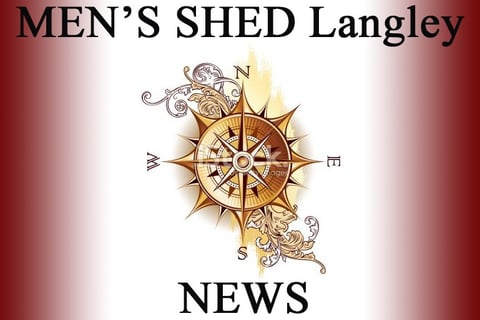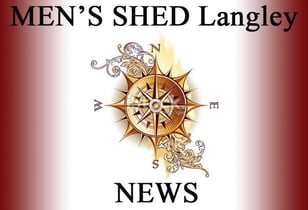 October 14th., 2023

--Herman, of

'Turf Guys Landscaping'

, donated a fine assortment of small power tools to our Men's Shed. As we are just getting our woodworking shop section started, this is a welcomed gift and a wonderful showing of support for our 'Shed'. Thanks!
July 31st., 2023

--Langley's Men's Shed has found their 'space' to work and grow. Through the kindness of

Michael & Susanne Robinson

, we have been allowed a huge area with all that a shed needs. Cooperation between us will give us the opportunity to utilize the potential of our space and enjoy the wonderful surroundings of this property.
September 4th., 2023

--

'Langley's 'Seniors In Action'

granted our Langley Men's Shed $500.00.
June 26th., 2023
--Men's Shed Langley Society became
Incorporated
in British Columbia.
January 23rd., 2023
--The
very first
Men's Shed meeting in Langley.
March 14th., 2023
--Men's Shed Langley received a $1,000.00 grant from the
United Way
.
Building
Connections,
Building

Community
My Personal View
~Ray Girard - President - Men's Shed Langley
Men's Sheds all seem to have a different focus. It depends, of course, on the talents, occupations and hobbies of each individual. So far our Shed seems to have a balance between the usual Woodworking and the newer interest of LASER-cutters/engravers, and 3-D printers. Luckily both can enhance each other. We would also like to create a Repair group who would tackle small appliances, bicycles, electric and non-electric tools, and similar things.
If our combined talents allow, we would attempt repairs in our community of Langley, the Township of Langley, and the surrounding area, ...improving or repairing pre-existing constructs. I could also see us venturing into hobbies like photography, construction techniques, story-telling, gardening, PhotoShop graphics, remote-control flying (drones), and many other areas. Each new person who joins has a world of talents to add to our possibilities. They also have the chance to learn something NEW, which always adds to ones Life. No matter what age we are, we should always move Forward.
I guess the bottom line is that we wish to create an atmosphere of Welcome, ...a group of friends, ...a feeling of usefulness, ...and a place to immediately feel at home in. Join us in the quest. It is truly Worthwhile, and it has the propensity to create Magic.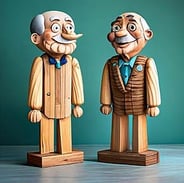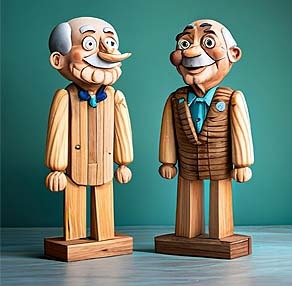 Contact Us
for any reason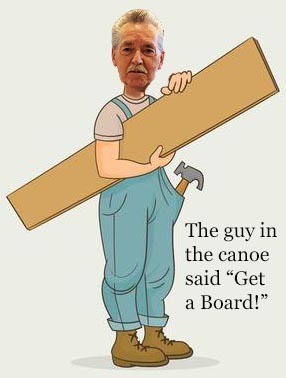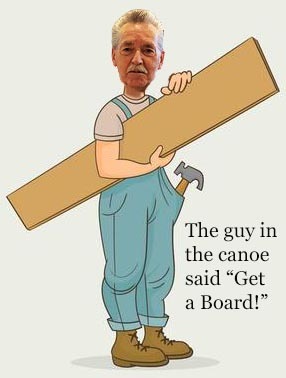 Donations can be made by Cheque or E-Transfer
Cheques written out to:
Men's Shed Langley
and mailed to:
Alex Paylor, (treasurer)
#109 - 5765 Glover Road, Langley, B.C.
CANADA
V3A 8M8
E-Transfer emailed to:
info@MensShedLangley.ca
Donations are
critical

to Men's Sheds as they help maintain

spaces

, provide necessary

tools

and resources, support

programming

, and ensure the sustainability of these

vital

community hubs for men's wellness and social connection.